if you are happy it shows
Share your happiness with us and with those who will come after you
Your happiness, our happiness
Satisfied Customers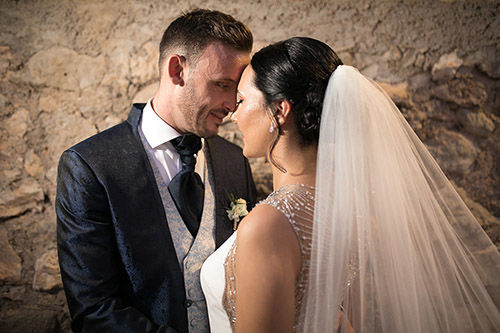 AMANDO + NOELIA
OUR BEST CHOICE! From minute one, we do not doubt that it would be them, for their professionalism and their humble and close treatment. Investing in photography and video was one of our priorities. At the end of the day, the wedding day passes, and what remains are the wonderful MEMORIES that they capture !! Recommended 100%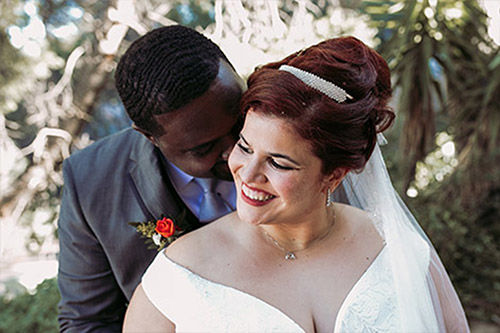 STEVEN + SANDRA
Lovely photos! Everything was very easy and they adapted great to everything we asked for. They have been super professionals but at the same time very close, we have loved all of them. They have been very attentive and dedicated, my boyfriend and his family hardly spoke Spanish and they managed to make them feel very comfortable and that there was good communication between everyone. Almost everything had to be done remotely and they helped us a lot. The photos were very beautiful and very natural. We would choose them again!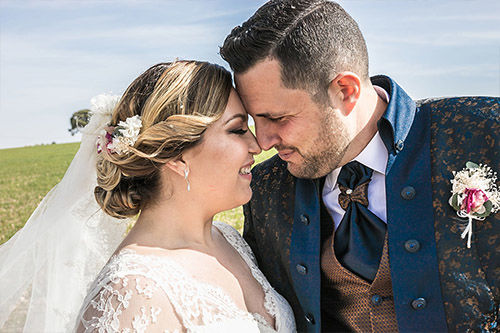 JUANJO + EUGENIA
They are great professionals who from the first moment to the last have been attentive to everything, always taking care of every detail to the maximum and with incredible professionalism. In addition to their great work, they are a very close team and with an unbeatable treatment. Able to capture the most beautiful memories and the smallest details in a great quality work in which their dedication and enthusiasm for what they do is evident. Every time we see the result of our photos and videos we like it more! You are a team 10.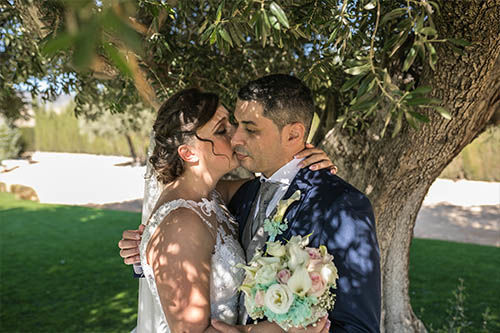 JONATHAN + LAURA
Totally awesome. On this special day they have made it even more so, totally incredible. They are professionals, they are familiar and the quality is the best.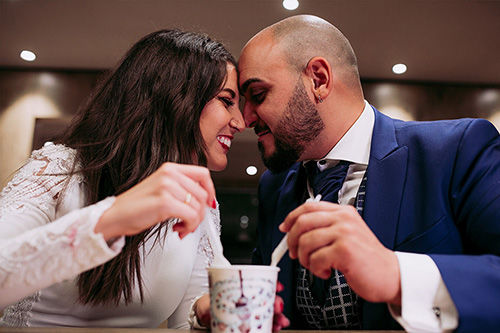 CARLOS + RAQUEL
Incredible people with great professionalism, quality, innovation and humanity at the same time. The perfect mix to make us feel calm and confident that we would have the best photos in the world. And so it has been. Thank you for capturing every minute of our big day in detail. If we were to remarry, without a doubt, we would choose you again. A team of 10, 200% recommended A thousand thanks Enfoques de Boda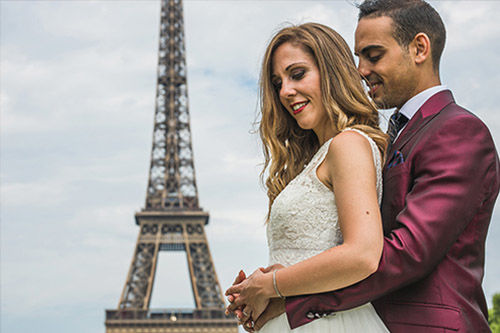 MARIANO + TAMARA
They have not only been our photographers, they have been our friends, with whom we have had a great time at all times and with whom we have shared one of the best moments of our life. They are unique, their work, their way of making us feel wonderful, we would choose you a thousand times more. Thank you for having captured the best day of our lives in this great and wonderful job.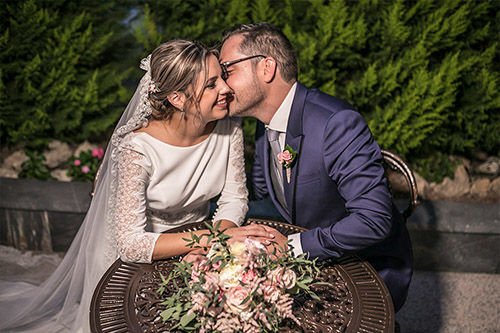 SERGIO + PALOMA
From the first moment we decided to get married, it was clear to us that we wanted Enfoques de Boda to be our photographers. The closeness and kindness of Miguel Ángel and his entire team made us super comfortable from the beginning. They captured the most beautiful and special moments of our big day, making them a great memory that we will have for a lifetime. They are true professionals who have taken care of every detail until the last moment. If I had to recommend a photographer, it would undoubtedly be to them, because we ended up extremely happy and delighted with the results. Thank you very much!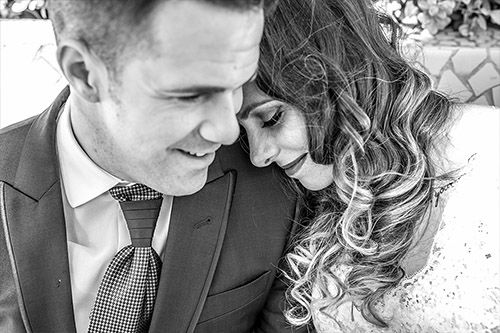 IVÁN + LOLA
A real success to have had Enfoques de Boda for one of the most special days of our lives. From the first moment, the treatment was exceptional, close and with tremendous enthusiasm on both sides. They gave us very good feelings and they knew how to calm our nerves in each photo session, on the wedding day they made it very enjoyable and we felt totally wrapped up in their company. Always with a smile on their lips, with advice to give you and especially with heart attack results when you see the finished work. Thank you a thousand times.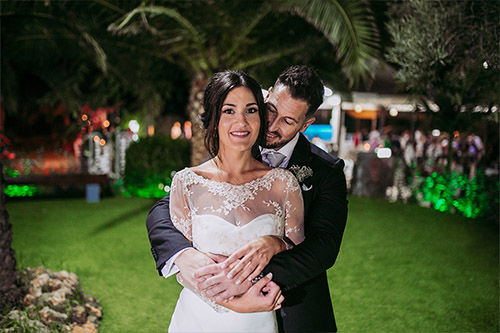 SAÚL + NOEMI
Simply spectacular!! Very professional and better people, they captured each and every one of our moments, and thanks to them we will always have the memory of one of the most important days of our life. It was a unique experience!!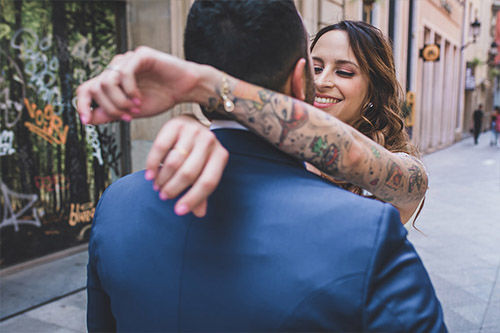 PACO + BLANCA
What a strange feeling to say goodbye to you. On the one hand the joy and satisfaction of having all the little things in our hands, but on the other hand ... the sadness that everything ends. You were with us from minute one that we decided to take that step, and it has been more than just work. That closeness, help and support that we have had from you including of course laughter and magical moments that you have captured forever. You are a great team from head to toe. Each and every one of the details is spectacular so I just hope that future couples do not hesitate to call you as we do not doubt it !!! THANKS FOR EVERYTHING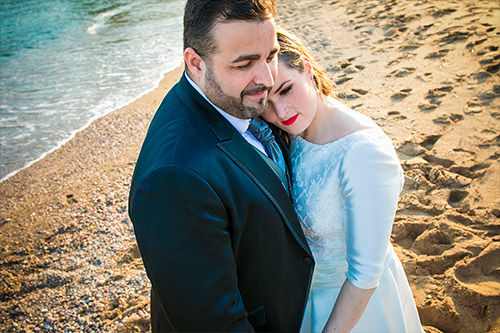 JOSEVI + NIEVES
From the moment we walked into his office, we knew that Miguel Ángel and his team were going to be part of our big day, of our life. To this day, we cannot imagine our wedding without them. They are not just photographs or videos, what they do are memories. Memories that last in time in the best and most beautiful way imaginable. It is not only the attention they give you, it is not only the details they have, it is not only the quality of their work, it is not just a job. When you love what you do it shows in the results, and the results couldn't be better. Great professionals, better people and now ... great friends!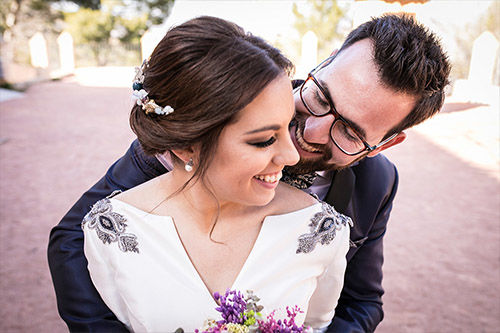 EDUARDO + MANUELA
Excellent work in every way. From the first moment we contacted them we felt very comfortable and delighted with their treatment, and needless to say on our wedding day, they did not miss a detail of that day, of the emotions, of the sensations, of everything in general. , that's why we recommend it 100%. The final result cannot be better, with excellent quality and no matter how many times we see the video, photos, etc., we do not get tired. Thank you for your work and treatment, you are excellent!